---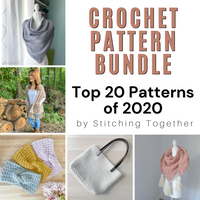 Sale
Can't wait to get started
I just printed off some of my favorites. I can't wait to get started on them.
Great array of patterns!
While I probably won't be crocheting every one, it was worth getting for the ones I like. Keep up the good work Jess.
Great selection of patterns to try!
I love most of the patterns! I can't wait to start the Pine Gap Pocket Shawl. I am so obsessed with pocket shawls! I keep making them for myself and then giving them away as gifts, LOL. I want to also make the shoulder bag right after the shawl! There are so many great patterns to choose from, I will be busy for most of the year!