---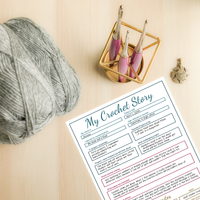 Great!
The form was easy to download. It's almost like tracking a bit of my story to share with others. It's a beautiful way to track your progress.
Very happy
Was very easy and fast, like the site!!
My Crochet Story Printable
My order was easy and fast. Website was easy to navigate and I found what I needed
Excellent
My order was easy, fast and in proper order. It was easy to order as well. Not to mention fast delivery! I will be back!!
Pleased
I wasn't sure about this page, but got to thinking that my kids will probably like to learn this about me when they get older!